Did you know that Amazon offers Kindle subscriptions to some blogs? I recently bought a Kindle and just discovered the Kindle blogs store contains over 13,000 blogs! Some are free, most are 99 cents a month (FYI Amazon decides on the pricing, based – I think – on publication frequency).
After some RSS feed tweaking I applied to have What Betty Knows listed, and it is now live here!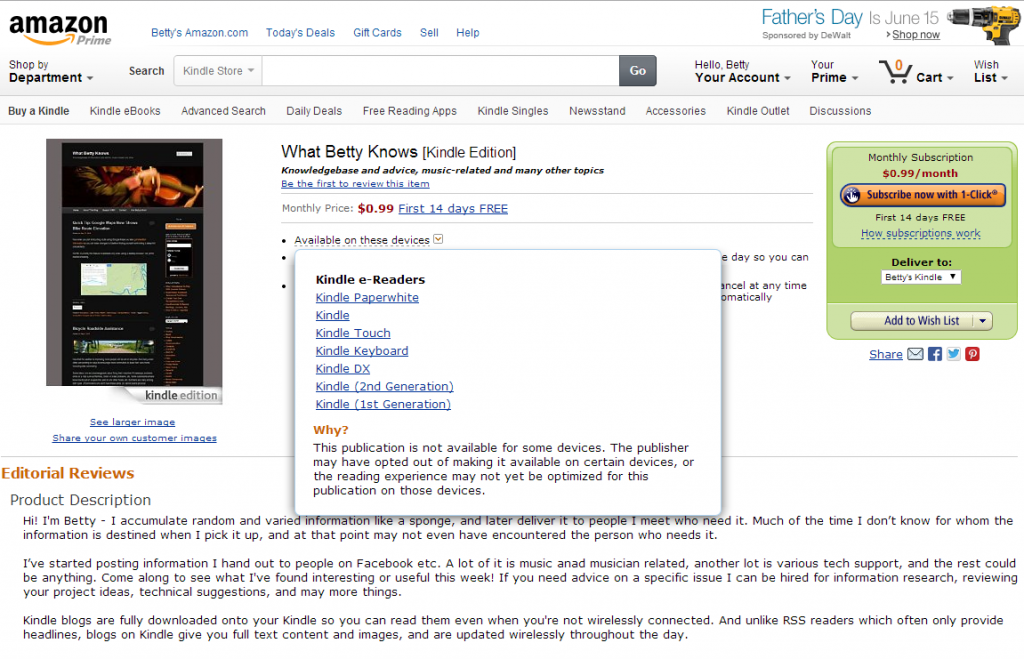 Note that it is only available on certain Kindle devices (because some of them do not reproduce images, NOT because I "opted out of making it available"), so check your device. In any case you will not be allowed to purchase a subscription if you don't have a usable Kindle model registered.
There is a 14-day free trial period, so you can cancel if the Kindle experience doesn't work for you.
However! Whether or not you have a Kindle, please do me a favor: If you enjoy WBK please go to this link and write a review. It doesn't need to be long (there is a 20 word minimum required), but would help convince others to check out WBK. Most helpful would be for you to say what you like about it, as trying to describe the content is difficult unless you already know me :-)  Thanks!