Recently I was involved in an auto accident – fortunately I wasn't seriously hurt, and my car is being repaired: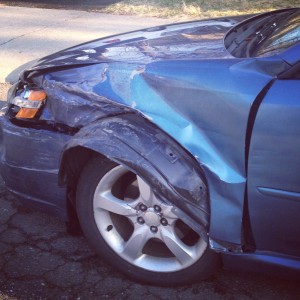 But besides being without my car for a couple weeks, the most annoying aspect of this experience is the paperwork involved!
Here are some tips based on what I've been doing. Some of this communication may come to you automatically, but depending on your situation you may want to be proactive about obtaining or reaching out to various involved parties in order to avoid later complications.
NOTE: I AM NOT A LAWYER AND THIS IS NOT LEGAL ADVICE! USE AT YOUR OWN RISK AND INVESTIGATE ITS RELEVANCE TO YOUR SPECIFIC SITUATION.
1. Use your cellphone to take photos of the other operator's registration papers and drivers license (front and back), and any other useful images (e.g., the intersection if there was something odd like a big pothole you were dodging), in addition to writing down the driver's information and their phone number.
2. Start the claim process with your insurance company ASAP – the most important piece of information you need for almost every other part of this process is the CLAIM NUMBER assigned to your case, as well as the contact information of the CLAIM REPRESENTATIVE assigned to handle it.
While your insurance company may have a web-based claim form available, personally I prefer to phone an intake representative (usually available 24/7) because that person can help make sure you are clear about what information you are providing. And also it can just feel better to deal with a real human when you've had the shock of an accident!
3. If you receive any medical treatment be sure to tell all the providers that it is for a MVA (motor vehicle accident) and give your auto insurance company information as well as your health insurance coverage.
Since any medical treatment for a MVA may be covered by your auto insurance Personal Injury Protection (in all or part) if you have it, this makes the auto insurer the primary provider of coverage, ahead of your Blue Cross or other health insurance. This means, for example, if you would normally have to pay a co-pay for ER treatment you probably do not need to pay that since it is not being billed first to your health insurance. How much the auto insurance pays before reverting back to the health insurance will vary.
4. Request and keep documentation of any medical-related diagnoses and treatment recommendations: For example, I received a discharge sheet from the ER which contained important information including:
the billing code for my case
the doctor's recommendation that I take at least 2 days off work
the recommendation that I take a certain painkiller twice daily
In order to provide documentation for coverage of other medical expenses to your insurer you may also need to request additional items not unilaterally offered to you. For instance I requested:
a paper copy of the notes from my call to the after-hours clinic to document that it was at their instructions that I called an ambulance to go to the ER even though I was already home and 2 miles from it.
notes from my followup appointment proving that my doctor prescribed a gel pack microwaveable heating pad for my whiplash.
5. Keep a copy of any documents you are required to file. For instance, in MA if your accident resulted in more than $1000 of damage (very likely if there's any at all) you have 5 days to file a Motor Vehicle Crash Operator's Report with the RMV, the Police in the jurisdiction where it happened, and your insurance company.
5. It is probably NOT a requirement that you talk to the other operator's claims adjuster. It is YOUR company's job to work out fault and to recover their money from the other driver's insurance. But the other company will probably call and/or write to you. The only things you may want to say to them are:
If you are planning to pursue an injury claim against the other driver, get a lawyer and tell them her/his name.
Tell them the claim number and claim representative for your company.
If you are feeling nice, offer to email or fax them a copy of the MV Operator Crash Report (it is a public document, but it could take several months for them to get it from the RMV).
Don't engage in any discussion of whose fault it was.
6. Once you have the claim number, contact everyone who should have it for processing claims. This could include:
The ambulance company
The hospital billing department
Your own health insurance company (to arrange "3rd party billing")
Your health clinic
anyone else who might bill you for something that the auto insurance might cover.
That's what I've done to this point – I'll add on anything else that comes up.
Good luck with the process if you need to endure it!
PS: Not paperwork but accident-related if your battery needs to be removed.