You've heard the saying "there's no such thing as bad publicity"? While not always true, it IS the case that any online mention of a website URL improves its "score" in search engines like Google and Bing.
This means that if you want to alert your web readers to a site that is promoting a scam, fraud, bad science, or other misinformation your very use of that site's address will improve it's "score" for searches on related keywords. For example, a site that claims global warming is a myth will appear closer to the top of searches on "global warming".
So how do you discuss this site without giving it a search engine boost?
In some cases you may choose to not even name it if you don't want to encourage traffic to the site (e.g., to "linkbait" sites who republish videos just to get you to land on their site where the video is surrounded by their ads).
But if you do want to direct readers to the site without a direct reference, you can use the tool provided by DoNotLink.com: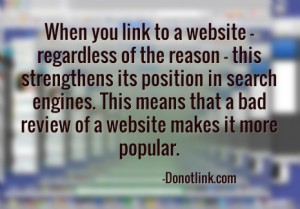 With donotlink.com, you can link to sites without giving them "Google juice".
Donotlink uses three different ways to block search engines from crawling a link. So you can post the link on forums, message boards, facebook, twitter, reddit, and other public places without giving shady websites any undue credibility.
You can read more about how Donotlink works in their FAQ. To use it you can either
– Go to Donotlink,com, enter the URL you want to link, and you will be given a shortened URL to use in its place, like bit.ly or tinyurl.com works.
– If you don't want to visit the site every time you need the service, you may just format the link in your post with the prefix "http://www.donotlink.com/" – for example:
http://www.donotlink.com/www.scamsite.com/scam/haha.html