When you create an event on Facebook, presumably you
Want people to pay attention and attend, plus
Want others to know that their friends are attending so they might consider it as well.
But failing to title your event in a specific way may sabotage its visibility!
On your Event page it's usually clear what the event is, who is holding it, where, etc. However, links TO your event that show up anywhere else on Facebook ONLY show the event title.
For example, here is what the new "Events" column shows to the left of an event page I was on – note the two titles underlined in red (click photo to enlarge):

Do you know by whom and where "Saturday Brunch" is? Do you know who is doing what on Saturday at Toad?
Here's what the brunch event looks like in your News Feed when I say I'm there: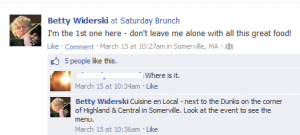 As you can see, the title did not give my friend any clue about the actual event (or if I was just saying I'm at "Saturday Brunch" as a general activity). While it is true that she could have clicked the "Saturday Brunch" link to find more information, most people will NOT follow an unclearly-titled link just to find out what it means!
Facebook will display about the first 23-24 characters of your event title in News Feed and Event sidebar links. So when titling your event think carefully about the first words you use. While it may seem redundant to use the name of your band, company, or self when the event is being created by your page of that name, that information will not be visible in a News Feed short mention.
Even if the limited number of characters doesn't allow for a full description in the short News Feed link, consider what information would cause your fans to think "Oh! X is doing something that might interest me!" That could be:
– Your business name: "Cuisine en Locale Sat Brunch"
– Your band name: "Ginger Ibex & Caith Threefires at Arts At The Armory Cafe"
– Something else that is interesting enough that people will click to see more: "The Literary Roast – MONDAY, MAY 12 @ OBERON"