A few months ago I posted my research on what types of Facebook posts are allowed to be seen by more of your Page's fans without your being forced to pay Facebook. Since Facebook frequently changes how they treat your posts I just did another quick experiment with posts to my band Ginger Ibex's Page to see whether my prior conclusion still holds.
Here's the result:
This week the band had a live broadcast/webcast performance and interview on a local college radio station, plus an interview leading up to it published on a news and entertainment website, so we posted links to that FB event and to the interview. Both posts had viewing numbers of less than 10% of our total FB fans.
After the radio show we posted a photo of us and the DJ taken in the broadcast studio – and that was given more views than ANYTHING we had previously posted – over 75% of our FB fans (over 300 of almost 400 fans).
Today I wanted to post about a Youtube "video" that is really just that studio photo to carry the audio of our radio interview. But instead of posting the Youtube link to make a "link" post (which hadn't performed well), I did this:
Took a screen shot of the Youtube page and cropped it to the video play window.
On the band's Page Status input I first uploaded that .jpg image.
Now that the post type was established to be a photo, I then added as the photo caption "New! Now you can listen to our WMFO 91.5FM On the Town with Mikey Dee interview directly, via this Youtube "video" at http://youtu.be/NHqLAzjq7o4 "
By adding the still photo first and THEN adding the video link in the caption, the link can still be clicked and send the viewer to Youtube to see the video, but Facebook treated the status as a photo and gave it much wider newsfeed visibility (click image to embiggen):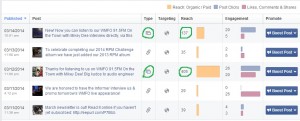 So the moral of this story: photos are still your best bet for free Facebook visibility. Plus, by adding the photo first you can get the link you actually want people to click into the initial item display (previously I had recommended you post the link in a follow-on comment, but that is not as visible in the newsfeed).