In most parts of the United States this weekend is the start of Daylight Saving Time – at 2:00AM this Sunday morning clocks are set to 3:00AM, until late next Fall.
Unfortunately, if you have created a Facebook event that is happening this Sunday and you are in a DST-using location, Facebook's coding is going to mess mightily with the displayed event time, as it gets confused between you creating the event in Standard Time yet the event is in DST.
What happens is:
♦ Initially when you create the event you should go back and view it to make sure FB is using DST, not Standard Time. You may need to tweak the time setting a couple times to convince it.
♦ But then, every time you make ANY change to the event (edit the description, add a ticket link, etc.) FB will ALSO note that you "changed the time of the event" and move the time back one hour!
For example: in this screenshot (click to enlarge), this Facebook event was created earlier this week and set to say the event starts on Sunday at 4:30PM EDT. Today the administrator made two NON-time-related edits to the description of the event. The red arrows point to where Facebook says she changed the time to 3:30pm and then to 2:30PM – neither of which did she do!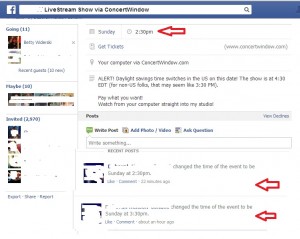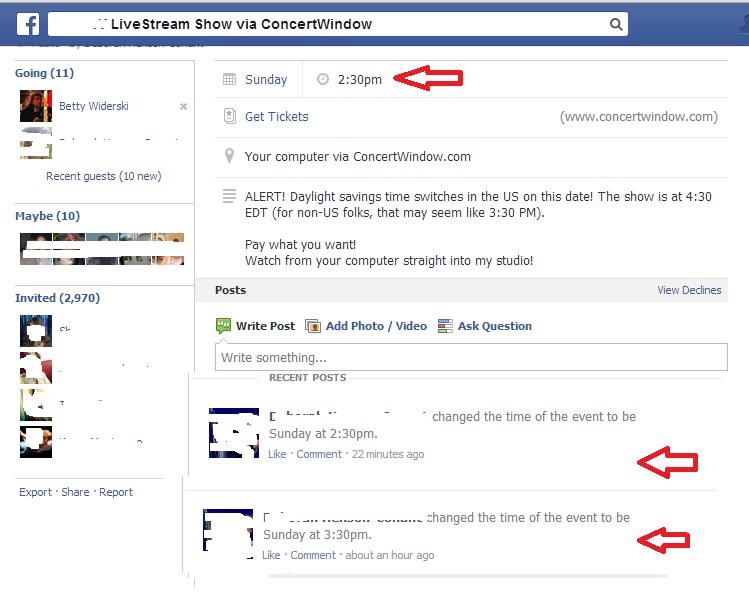 So how can you fix this?
Every time you need to make any change to your event page prior to Sunday (or whatever the day of the event that is also a time-changing day – this also applies to the removal of DST later in the year), you must also specifically manually re-edit the time field yourself, even if it looks correct.
After saving your changes, navigate out of the event page, then navigate back and check the time. If it is still not correct, edit the event again, ONLY changing the time.
Keep a random eye on it in any case.