I'm currently working with electric harpist/storyteller/composer Deborah Henson-Conant on her latest project: DHC-TV provides live mini-concerts webcast from her home studio via the Concert Window site. In addition to behind-the-camera technical support I am also providing a brief What Betty Knows feature during the show to help teach her viewers, many of whom are novice social media users, how to interact with DHC and other fans using various social media tools like Twitter, Facebook, Instagram, et al.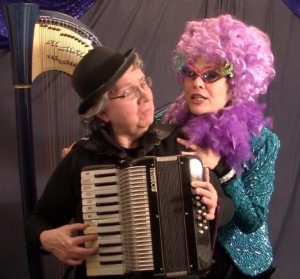 I'm writing an ebook from the information I plan to present during the show. Here's the first chapter draft: an introduction to why fans might want to use social media to communicate with and about their favorite performers:
The Web: Where Everyone Can See You Applauding!
When we attend a live performance and have enjoyed the presentation, the standard method of showing our approval is to applaud. The next day we may tell our friends and officemates about how great it was… and that's usually the extent of how, where and with whom we share our enjoyment of the event and performer.
Until close to the end of the Twentieth Century the methods used to promote a performer included getting played on the radio, press releases to local newspapers before a show,  hanging posters around town, hopefully getting a good review after the show, and fans telling their friends directly.
The advent of social media has created more far-reaching opportunities for fans to amplify the effect of our enjoyment and discussion of a performer. Fans who tweet, text, post to Facebook, share photos, blog about a show, etc. are a very important and influential force that can help a performer reach more people who don't yet know that they will love her/his performance!
Why Should I Talk On Social Media About A Performer?
First of all, because it's fun! You will end up interacting with other fans of the performer (and sometimes the performer her/himself, or their staff). Besides talking about a performer you both love you may also make new friendships or find concert-going buddies.
Secondly, your visible support of the performer can make a real and significant difference in their ability to book more shows in better places. When a performer can tell a place they want to play, "I have 300 fans on my mailing list within an hour of your venue, and my fans are very active in getting the word out about my shows and talking them up on Facebook and Twitter– look at hashtag #DHC-TV" (more about hashtags in a minute) that booker is more likely to be convinced the show will be a success.
Thirdly, if you like taking photos or writing blog posts about your experiences you are probably happy when people compliment you on your pictures or writing. Doing these creative acts in conjunction with a performance and sharing the links with other fans gives you access to a wider audience than only your family and friends.