If you are a multimodal user of social media you may wish at times to alert your audience in one area of your activity on another area, e.g., post a link to your new blog article on your Facebook page. There are various tools that make this easier – usually "share" buttons allow you to repost to another social media site, e.g., sharing your Instagram photo to your Twitter feed.
But sometimes you want to share in a way for which a handy button does not exist, such as embedding a link (URL) to a specific Facebook post and its comments in your email newsletter. How do you find the URL of that post? Facebook just wants you to use their "share" button to stay inside their site so that doesn't tell you the link.
Here's how:
1. Go to your page and scroll down to find the post whose URL you need to know.
2. Put your mouse on the date (or the "X hours ago" if it's a recent post) under your name: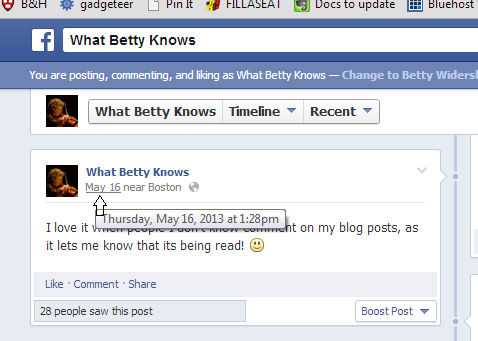 3. Right-click (or Control-click if you don't have a 2-button mouse) that date link to pull up this menu:
4. Select "Copy link address" to copy the post's URL to your computer's clipboard. (Alternately, you can regular-click the date link to open the post on a separate page, then copy the URL from the address field of your browser app).
5. Paste the copied URL into a text document somewhere to save it, or directly into your email composer if you are working on your newsletter.
Warning: In order for the URL to work for everyone (even if they are not on Facebook) the post you are linking MUST be "Public"! If its privacy is restricted in any way (e.g., to your friends only) it will not be visible to anyone else. In the first screenshot above note that there is a "world globe" icon next to "May 16 near Boston" – this indicates the post is "world viewable" to anyone.
You can also use this method for finding the URL for your Facebook photos, or for posts by other people – but again only if those photos or posts are world viewable.