Yes, I know a lot of stuff. I am also human, though, so still fall prey to emotions over logic…
Last week I decided to buy a juicer to encourage consuming more vegetables than I currently do. After a friend's recommendation plus some research I decided on an Omega 8004. I found a factory-refurbished-with-warranty one on Amazon, then looked at the seller's own website, discovered that purchasing directly got me free shipping and ordered it.
The company quickly processed my order and the juicer arrived on Monday. I had pre-shopped for vegetables to juice and was anxious to try it out… but when I opened the box and inventoried the contents I discovered they did not include the brush for cleaning the filter screen nor the pusher for the feed tube.
I wrote to the seller and received an almost immediate apology and promise to send the missing items. A toothbrush easily substituted for the official one, but the pusher was rather crucial due to the narrow feed tube. But I wanted to try it NOW…
For a substitute pusher I chose a plastic chopstick from a drawer. I told myself that I would be careful not to push it down onto the spinning auger, and for a couple days that was the case. But on the 3rd day I got careless. I should have stopped or reversed the auger to deal with a stuck piece of apple, but instead I poked with the chopstick.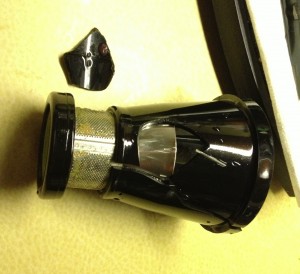 That's the juicing screen – the rotating auger goes inside and presses the items being juiced against this. The pulp exits the nozzle and the juice exits a hole in the enclosing casing. But it is not designed to have a couple inches of shattered plastic chopstip forced against it – that interior metal piece actually bent outward, which is what shattered the black plastic.
I wrote another email to the seller explaining how I had damaged the part in a way I was sure would not be covered under the warranty and asking if they could sell me a replacement juicing screen. What happened next was an amazing act of customer service:
The seller said they will send me the part for free because they considered it partly their fault for not including the correct tool initially!
So if you are in the market for a juicer (or blender or dehydrator) I suggest you consider Juice Blend Dry for their excellent customer service!