I decided to try an experiment with this past Wednesday's blog post: on my WBK Facebook page I paid $5 to "boost" the link and see if that gave any benefits, specifically:
Did it increase the number of people viewing my blog post?

Did it increase the number of people who subscribed to my blog or its RSS feed newsletter?
Did it increase the number of fans of my Facebook page?
My baseline averages on various blog statistics are:
17-22 page views on the actual blog site on days I post a new entry (Not counting the  48 hour period when Amanda Palmer and Neil Gaiman retweeted the post about her musician kerfuffle).
3 subscribers to the blog, 8 subscribers to the Mailchimp weekly RSS feed
77 fans of my Facebook page
Between 6-15 "reach" (in how many people's newsfeed it appeared) per Facebook post. Best recent "reach" was a non-blog link posted on April 6 about "Like farming", which had reach=515, 62 clicks,  and 31 "talking about this".
36 hours after I posted the Facebook link and enabled $5 worth of "sponsored" posts, here are the results:
• Facebook put a sponsored post in my own newfeed Thursday morning around 9AM!
• In 48 hours there have been 41 views on my blog site. However,
only 12 of those views were of the new post, and
only 8 of them were the result of people following the link from Facebook
7 of them were to the Amanda Palmer post, 6 of which came from either her posts or other old articles on the topic.
• Facebook reports the total "reach" of the post is 742, 739 of which were via paid "sponsored" posts and 8 were "organic", meaning naturally occurring in the feeds of people who follow the Page.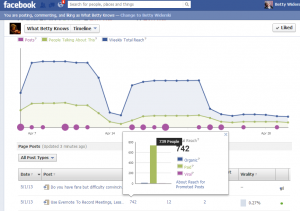 • Facebook claimed yesterday that a total of 11 people clicked on the post, but today said it was only 7 – no idea why the discrepancy.
• The total Page "likes" is still 77. There have been no new fans since last Tuesday (the day before the sponsored post) and no one has so far UNliked me for paying for their eyeballs (which I considered as a possible consequence).
• There have been no new blog or RSS feed subscribers
• It has cost me $2.86 for 745 sponsored newsfeed appearances (including my own feed) and 7 clicks on sponsored links.
• None of the desired benefits enumerated above have been met.
While one attempt on one post is not statistically significant, I'm not particularly inclined to try this again, at least for this page. And given how many friends feel antipathy about others' paying for their eyeballs I'm not likely to do this on my bands' Pages.
So if you want to make sure you see information about groups you think you are following on Facebook, don't depend on your newsfeed – subscribe to their email lists! (such as this one for my band Ginger Ibex…)