I'm offline much of this weekend (starting today) going to Ladies Rock Camp, so here is a selection of tidbits previously posted to my Facebook Page as they didn't turn into full blog posts:
Quick iPhone tip  If you need to charge up your iPhone while away from your computer and lacking a direct outlet plug, before plugging into another person's computer make sure to do this: open iTunes on the computer, go to Preferences -> Devices and enable the checkbox for "Prevent iPods, iPhones, and iPads from syncing automatically." Why? so that things like your voice memos don't get transferred to their computer!
I'm testing Postrocket, which is supposed to analyse my FB pages performance & choose the best times to post things I queue up for later – it's free for 30 days if you want to play too: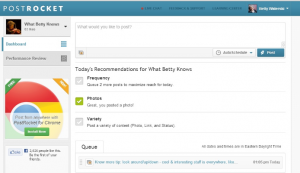 Snail mail tip: If you are over 30 you may make the mistake of thinking 1st class USPS mail is still fast – nope! They really want you to used Express or Priority, so 1st class is now 3rd-rate in delivery time outside of your local area. Though 1st class DID beat a (poorly labeled) Priority Mail order from the same vendor! But that was due to the local PO misplacing the PM package after receiving it on Sat. – I had to call twice before they located it.
Question from a reader: "got any tips for finding US savings bonds that got lost between moves?" Answer: Fill out a claim for lost bonds, with as much info as you have (you do NOT need the bond #, but do need other info to help ID it, like SS #)
Note to students: if you are a non-English speaker and your 1st paragraph's spelling errors demonstrate your English ability, then if the remainder of the assignment is written flawlessly it's a big hint that the person grading it should look for where on the web you copied it…