I mentioned this in passing a while ago, but I just now set up and placed an order with Kunaki.com for a very few – five – CD albums of the 10 tracks my band Ginger Ibex wrote and recorded in February for the RPM Challenge.
Unlike our professionally-recorded 2009 album Firefly, these pieces were written quickly, in styles different from the band's usual sound, and all recorded in my office-studio with GarageBand, MIDI patches, Apple Loops, and one Snowball USB microphone. The resulting music is fun, but not anything on which we wanted to spend a thousand dollars or more to master and press more crates of CDs to keep in my basement!
How did it work and how did it turn out?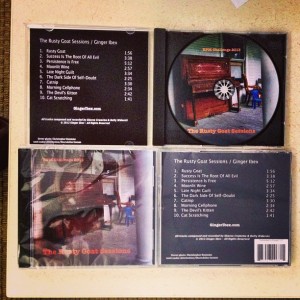 Yes, that is a full-spine jewel case and on-disk printing. The process is:
You download their small .exe (yes, Windows only). It guides you through:
providing the album and track information.
either letting it create a default text layout over your supplied image, or
allows you to add your own pre-formatted tray, insert, and disk images
uploading your tracks (which it would ONLY read from my CD drive, so I had to burn a music CD-R in order to add them).
It bundles all of that into a packaged file.
You upload the package to their site as part of creating your account.
They store the bundle indefinitely, as long as someone orders at least one album every 6 months.
They will include a free UPC bar code if you want. The CDs are shrink-wrapped.
I created the above album and disk art in Photoshop and Gimp (a free Windows PS act-alike) following their image specs. I suggest that you read their "Questions and Answers" carefully before starting the setup process – it may save you from formatting mistakes.
Caveats:
– It can take several hours for the package upload to finish – it is transferring the audio and album design information bit-by-bit to be loaded into their automated facility.
– Proofread everything very well, because there is NO editing after uploading. If you find a mistake after that you must delete the uploaded project and start from scratch with the package creation app.
– Take advantage of their offer to send you one free copy of your first uploaded project, to make sure it is what you intended before ordering a quantity.
The price for one to five is $1.00 plus shipping. You can order more than five, but then the price varies from $0.75 to $1.75 each depending on their current demand level, plus shipping.
You can also set up a page where fans can order for themselves, and the net from the price  you set (after they deduct $1 per CD – they charge the ordering party shipping on top of the retail price)  goes to your Paypal account.
This is not an appropriate service if you want ANYthing other than a duplicated CD in a standard black-tray jewel case with two-sided front card plus rear tray card (though they do also do DVD replication). But if that suits your need for creating a small inventory of CDs to sell at your shows/busking/etc. that can be replenished in short order (manufacturing to mailing turnaround is usually one business day) at low cost then
Kunaki
is a good option. They will also drop ship directly to CD Baby and Amazon if you stock albums on either site.