I recently purchased a nice leather messenger/briefcase bag from Rustic Leather. I like everything about it, except for one element: the Timbuk2 messenger bags I previously used had dangling reflective tags which made me more visible when walking at night.
I looked for something similar to attach to my new bag's copious amount of D rings, but did not find anything like those tags – so I decided to make my own.
Fortunately we have a local Harbor Freight Tools store where I could look for likely materials. I found these items, which you may order online via the links: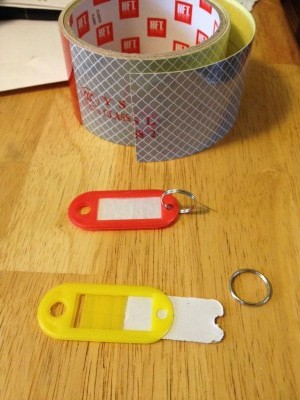 The 6-foot roll of reflective tape (which has alternating sections of red and white) cost me a big $3.99, and the package of 12 key ring tabs was $1.49 .
I took out the blank label from a key tab and used it to cut a piece of reflective tape that would slide into the tab: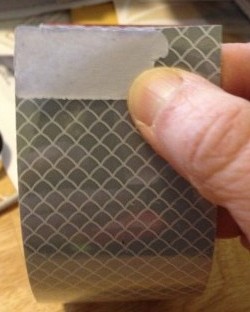 Slide in the tape and mark where to cut it so that it will not block the hole through which the split ring needs to be placed (which also keeps the tape from sliding out – no need to remove the backing an try to stick it inside the tab):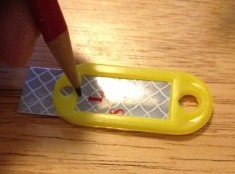 Next, measure the entire tab against the reflective tape to cut a piece that is the width of the tab, so you can make the back side reflective as well: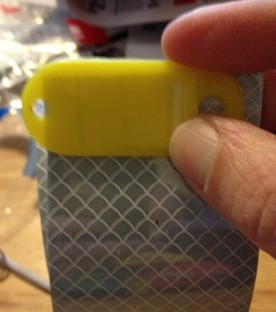 Again, mark the tape and cut so that it will not block the tab holes. Then peel off the tape backing and stick to the tab back: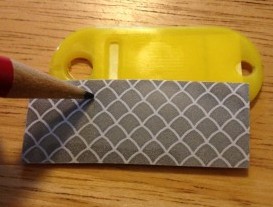 Here's the completed reflective tab seen from the back with the split ring started in the hole. Now you can attach it via the split ring to a zipper pull, D ring, buckle, or other part of a backpack, jacket, or other item you carry or wear after dark.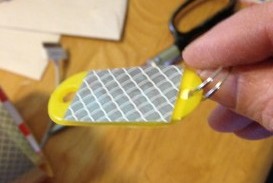 Here's the reflective tab attached to the zipper on my lunch bag that I carry attached to the front of my leather bag for work. I also put tabs on the D rings at the bottom and sides of the leather bag.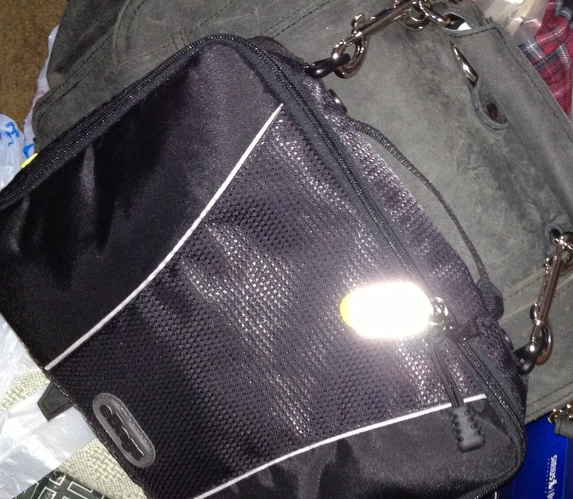 Total cost: ~45 cents per tag for 12 reflective tags, plus plenty of left-over reflective tape for use on bikes, bumpers, shovels, etc.