I started to write another post, but when I went to link a Facebook page to it I realized the page owner had not claimed a username for her page.
What does this mean? If you want people to be able to find you easily on the Web, it's helpful to have an easily-remembered web address (URL). For your own website domain this means you want buy a domain name that makes sense and is easily remembered. E.g., I could have bought the domain name "StuffThatBettyWiderskiKnowsAndWantsToShareWithYou .com"                                     but "WhatBettyKnows.com" is more memorable and tidy.
You don't have as much control over your Facebook business/band/etc Page address, but you can choose to make it less of a string of random numbers.
Which of these is more user-friendly?
http://www.facebook.com/pages/Ula-Cafe/63364355029
http://www.facebook.com/bohocoffeehouse
These are both FB pages for local cafes, but the first one has not taken advantage of the available option to clean up their Page address as the second one has. The shorter URL is much better for putting on a business card or other marketing communications.
See this Help page on Facebook for all the information and links to make this change. The short story is:
– go to http://www.facebook.com/username to choose your Page's name. It will look something like this: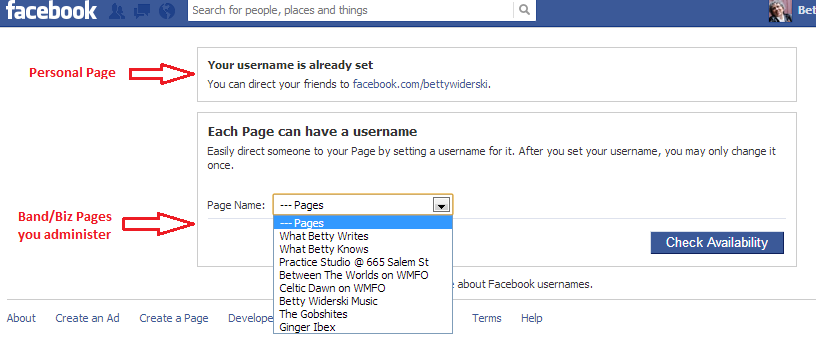 NOTE: there are TWO areas for names: the top one is for choosing the name of your personal page if you have not already. Don't choose this for setting your professional page name by mistake.
– The bottom area will show you your business/professional Page, or a dropdown menu if you administer more than one page as I do. Again, make certain to choose the correct one.
– Select the Page you want to name, enter the name you want, and click the Check Availability button to find out if it is a unique name, e.g., it's not likely you can call your band "The Beatles". If the name you want is already taken, choose something that makes it unique: if "The Bulldogs" is already taken, try "The Bulldogs of Boston" or "The Bulldogs Band".
– If you goof and misspell the name, you have ONE renaming opportunity before the name is permanently locked.
– Pro tip: If your professional identity is the same as your personal identity – e.g., you are a singer/songwriter named Sue Smith whose musical act is billed as "Sue Smith" – to avoid confusion do not name your professional Page with the same name as your personal Page! In the screen shot above, note that my personal page is "Betty Widerski" and my musician page is "Betty Widerski Music"